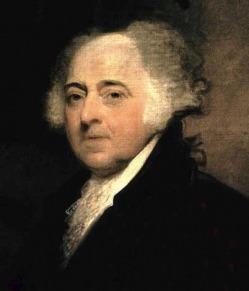 President John Adams 1735 - 1826
2nd President
President John Adams was graduated at Harvard College in 1755; taught school and studied law at Worcester for two years; was admitted to the Suffolk bar in 1758, and began practice in Boston, residing at Braintree (Quincy) till 1768, when he removed to Boston. He was employed as counsel, together with Jeremiah Gridley, the head of the Boston bar, and James Otis, the orator, to present a petition to the governor and council that the courts might proceed with business, though no stamps were to be had, and he was chosen one of a committee to draft instructions to the representatives of the town. In 1770 he was himself chosen a representative in the General Court, a position which he continued to occupy for a number of years, although his practice as a lawyer was larger than that of any other in the province. He was conspicuous as an adviser and leader of the patriot party.
He was one of the five delegates chosen by Massachusetts to the Congress of 1774, at Philadelphia; was a member of the Provincial Congress on his return, and in 1775 was again chosen a delegate to the Second Continental Congress. The war had already begun at Lexington. New England had an army of 15,000 men besieging the British in Boston; Congress was prevailed upon to assume the command and expense of the army, and Gen. Washington was chosen commander-in-chief. Adams was the leading spirit, aggressive and untiring; "the column," as Jefferson denominated him, upon whom Congress depended.
Upon him devolved the presidency and the burden of the board of war, a leadership which won for him the encomium of "the clearest head and firmest heart of any man in Congress," "the Martin Luther of the American revolution."
He went abroad as commissioner to France in Feb., 1778, and for the next ten years very much of his time was spent in the service of his country, as commissioner to France, minister to England and to Holland. Through his efforts a loan of two millions of dollars was negotiated in Holland, which proved of great value. He was Vice-President with Washington from 1789 to 1797, and President one term, 1797 to 1801.
By reason of the intense party division and feeling consequent, upon the French Revolution, he was defeated for re-election in 1800, and returned to his large farm and home in Quincy, where he passed the remainder of his life, devoted mainly to writing, and died on the 4th day of July, 1826, a few hours after the death of his former associate and friend, Thomas Jefferson. His son wrote of him: "In figure, John Adams was not tall, scarcely exceeding middle height, but of a stout, well-knit frame, denoting vigor and long life, yet as he grew old, inclining more and more to corpulence. His head was large and round, with a wide forehead and expanded brws. His eye was mild and benignant, but when excited, expressed the vehemence of his spirit."
He has been described as a man of greater learning and force than any of his contemporaries, but of ungovernable temper and undue self-esteem. His services to his country were of inestimable value.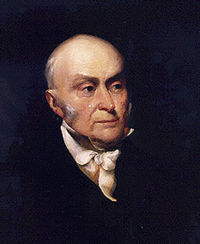 President John Quincy Adams 1767 - 1848
6th US President
John Quincy Adams began his public career in early boyhood. Going abroad with his father when 10 years old, he derived much of his education in European courts and capitals, and served as private secretary of the minister to Russia when in his 15th year. He entered Harvard College in 1786, when 19 years of age, and graduated in 1788; studied law for 3 years in the office of Chief Justice Theophilus Parsons at Newburyport, Mass., and was admitted to the bar in 1791. He opened an office and began practice, but in 1794 was appointed minister to the Hague by Washington, and in 1796 minister to Portugal. By the written advice of Washington, his father, on becoming President, made him minister to Berlin, whither he went soon after being married in London, in the Fall of 1797.
He resided several years at Berlin, perfecting his knowledge of the German language, negotiating treaties of commerce with Sweden and Prussia, and travelling in the meantime. A volume of his letters on Silesia, the New England of Europe, written at this time to his friends at home, was published and extensively circulated.
Returning to Boston he was elected a member of the Massachusetts Senate in 1802, and to the U. S. Senate in 1803. His support of the measures of President Jefferson as against the Federalist party of Massachusetts, by which he had been elected, led to a spirited controversy, in consequence of which he was defeated for re-election in 1809.
President Madison appointed him ambassador to Russia, and while serving in that capacity he was joined by Clay and Gallatin on the commission which negotiated the treaty of peace at Ghent. Dec. 24, 1814. He remained in London as minister of the United States, but returned to become Secretary of State to President Monroe in 1817.
He was elected to the Presidency in 1824 by the House of Representatives, and served one term.
Upon his retirement he was chosen to represent his district in Congress, which he entered in December, 1831, and where he continued till his death seventeen years later, Feb. 23, 1848.
This was perhaps the most notable and useful period of his life. Cut loose from all party ties, he stood as the champion of his own independent thought and the rights of the people. With a strong natural constitution, a wide experience, superior mental powers and knowledge, he was heard whenever he spoke in Congress with great respect and attention, and exerted a powerful influence. He was especially distinguished for his fearless and eloquent advocacy of the right of petition for the abolition of slavery in the District of Columbia and the public domain, which had been denied by the dominating politicians, and which no other had the courage to defend, and continuing at his post to an advanced age, even till stricken down by death, he became known and denominated "the Old Man Eloquent."
His writings are numerous. As compared with his father, it has been said, "John Quincy Adams had more learning, perhaps, but John Adams had more genius. In energy, spirit, firmness and indomitable courage, John Quincy Adams was his father's equal, in self command, in political prudence, and even in capacity for hard work, his superior. Both will live forever as representatives and embodiments of the spirit and ideas of New England during the periods in which they figured."